KOTO
Oregon Koto-Kai
Oregon Koto-Kai is a group of people with a passion for Japanese koto, a 13-stringed zither-like instrument with over 1000 years of history. Founded by Mitsuki Dazai in February 2012, the ensemble held its first concert in Portland, Oregon. Since that time they have performed all over the state at multiple venues each year, including Portland Japanese Garden, Portland Rose Festival and the Oregon Shakespeare Festival in Ashland. Oregon Koto-Kai's mission is to introduce Japanese koto music to the broader community by creating opportunities for people to attend concerts or take lessons.  They collaborate with local musicians, improve players' skills and add to the cultural diversity in the Northwest. Each year they host three concerts in the fall, winter and spring. In the spring they highlight traditional koto music, whereas the fall concert showcases more contemporary pieces. The holiday concert weaves a traditional Japanese folktale with selected koto songs to express the story's imagery. Above all, Oregon Koto-Kai seeks to share their passion of koto with their community and beyond.
Mitsuki Dazai (Oregon Koto-Kai Instructor)
Mitsuki Dazai is a graduate of Tokyo's prestigious Kunitachi College of Music, studied koto with the world-renowned virtuoso Kazue Sawai, and received her certificate in koto instruction at Sawai Koto Institute. Dazai moved to Oregon in 2002, serving as a guest lecturer at universities in Oregon, as an artistic director of new koto ensemble group, Oregon Koto-Kai (Japanese Koto Society of Oregon), and touring throughout the US, Europe, South America and Japan.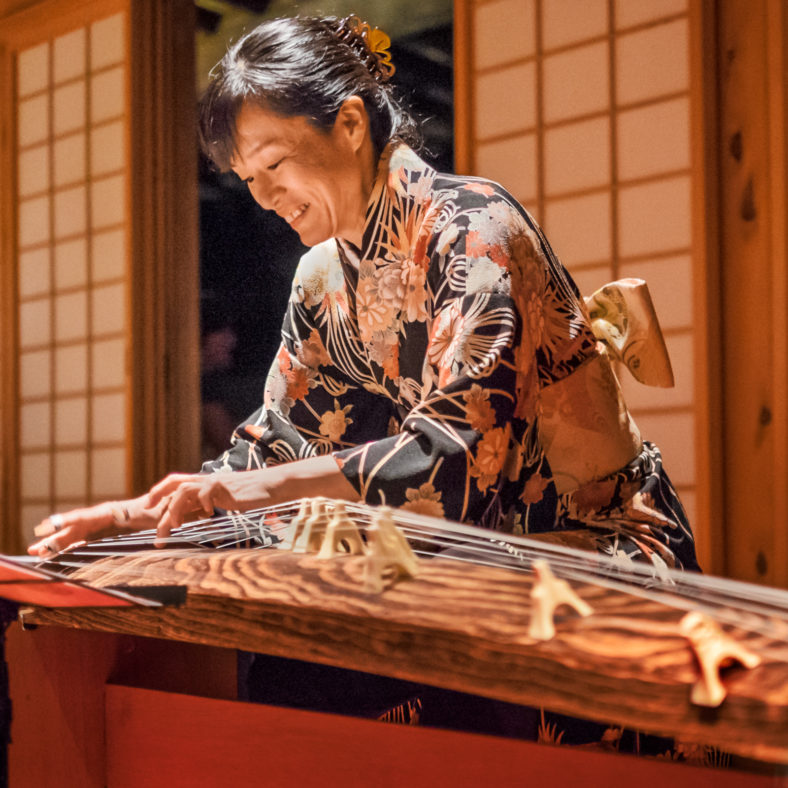 In 2010, Dazai was featured on Oregon Art Beat and released two CDs —Autumn, Music for Solo Koto (2007), and Far Away…Romances for Koto (2010) in collaboration with Grammy nominated composer Michael Hoppe. Her artistry is also featured on the album Shanti Samsara: World Music for Environmental Consciousness, produced by Grammy-winning Composer, Ricky Kej. In 2016, she was invited to 21C Music Festival in Toronto, Canada, and played with Continuum Contemporary Music.
Masumi Timson
Masumi Timson is a performer and instructor of the Koto and Shamisen – traditional musical instruments of Japan. She holds a Master's Degree in Music with a specialization in the Koto and Shamisen from Seiha Conservatory of Japanese Traditional Music, one of the most prestigious Koto schools in Japan. Masumi plays both classical and contemporary Koto music, and also sings Japanese classical songs with Koto and Shamisen accompaniment. She also enjoys collaborating with various western musical instruments to explore a wide range of musical genres, from jazz and tango, to western classical compositions by Bach and Mozart. Masumi has participated in many recordings of Pink Martini, and has performed with the band at various venues around the world, including Carnegie Hall, the Hollywood Bowl, and the Grand Rex Theatre in Paris. Masumi is also a Japanese language professor and currently teaches Japanese language and culture at Chemeketa Community College in Salem, Oregon.
SHAKUHACHI
Larry Tyrrell
Larry Tyrrell is the foremost player and teacher of shakuhachi in the Pacific Northwest. Trained in Japan, he is a composer, recording artist and performer who delights in sharing the serene and lyrical music of the shakuhachi. His repertory includes traditional Japanese honkyoku and folk songs (min'yo) as well as Celtic, modern and original compositions. He is currently creating shakuhachi instruction and music videos and teaches at his studios in Portland, Oregon and in the Fremont district of Seattle.
DRUMS
Wynn Kiyama (Executive Director, Portland Taiko and Director, Portland State University Taiko Ensemble) began his taiko training with the San Jose Junior Taiko Group in California and later studied with instructors in Japan, Hawaii, and New York. Kiyama holds a Ph.D. in musicology from New York University and has taught at Rutgers University, Westminster Choir College, Columbia University, Portland State University, and held an artist residency at Colby College. His research on obon dance and music has been presented as a museum exhibit at the Oregon Nikkei Legacy Center, an online photo exhibit, a CD and booklet, conference presentations, and articles. In addition, he has studied Japanese dance (nihon buyou) with the Tachibana School of Nihon Buyou in New York and in Portland with Sahomi Tachibana.
He has performed with a wide variety of musicians including Arturo O'Farrill and the Lincoln Center Afro-Latin Jazz Ensemble, Toshiko Akiyoshi, Badal Roy, Giovanni Hidalgo, Jason Kao Hwang, Sang Won Park, and Korn at such venues as the Knitting Factory, Galapagos, Birdland, Vision Festival, Merkin Concert Hall, Metropolitan Museum of Art, Central Park, United Nations, and the Arthur Ashe Stadium.
ENSEMBLE
Takohachi
Takohachi is a nonprofit organization that aims to educate, entertain, and introduce Japanese culture to audiences in Oregon and online; established in 2007 with the leadership of a founding director, Yumi Torimaru. Takohachi's guiding philosophy is "Onkochishin," one of embracing and studying the past to guide thought and action into the future.
'Takohachi' performs at large events like cultural and community events. A smaller, semi-professional unit of 3-5 dedicated and talented performers, 'Takohachi's 'Q-Ensemble' can achieve the same dramatic and exciting performances in much smaller venues, even in indoor settings. 'Kotori Japanese Music' is Yumi's solo and collaboration project, including 'Maido Mind,' a Shinobue/ Piano & Voice Duo by Yumi and Nozomi Imade of Nozomi Music School, and 'Takohachi X,' a duo with tsugaru shamisen, shinobue, shakuhachi, taiko and more.