Japan Institute of Portland Japanese Garden to present masterfully handcrafted Peace Lantern to the Royal Botanic Gardens, Kew in London, England
Portland, Oregon, U.S. — November 21, 2022 — On December 8, 2022 at 3:15 pm GMT, Japan Institute of Portland Japanese Garden will present a stone Peace Lantern to the Royal Botanic Gardens, Kew. This gift is inspired by one which Portland received from Mayor Ryōzō Hiranuma of Yokohama in the years following World War II, when the world was still reeling from this tragic global conflict. The Peace Lantern broadcast a hopeful message of a more harmonious future and has been seen as an important step in the re-building of the relationship between Portland and Japan. Japan Institute has commissioned one of Japan's greatest living stonemasons to create a masterfully rendered replica of the original lantern, ensuring this meaningful gesture is passed on to a new generation.
This presentation to the Royal Botanic Gardens, Kew will be a historic moment – it is Japan Institute's first presentation of a stone lantern to a community and its people outside of Japan. Prior to London, the organization has gifted peace lanterns to the Japanese cities of Hiroshima, Nagasaki, and Tokyo. As a testament to their significance, all three lanterns are displayed in prominent public locations, aside Hiroshima Peace Memorial Park, within Nagasaki Atomic Bomb Museum Square, and on the grounds of the International House of Japan in Tokyo. Several Japanese news outlets covered their dedication ceremonies, including NHK, Mainichi Shimbun, Fuji News Network, TBS, Chugoku Shimbun, RCC, and Yahoo Japan.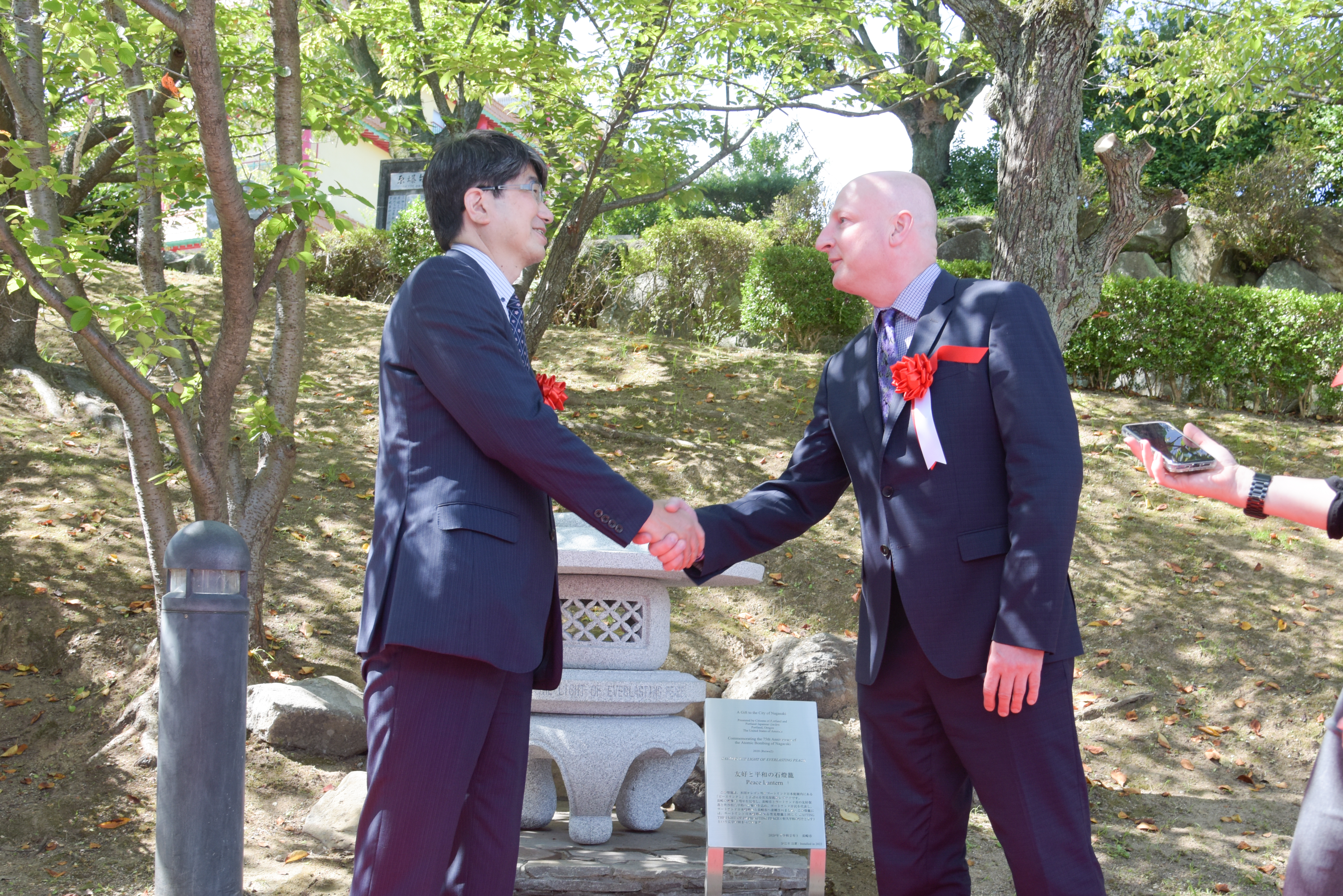 The yukimi doro (stone lantern with tripod legs) is stylized in the snow lantern form: the lantern's firebox is directly underneath a broad sloping roof resembling a traditional Japanese hat made from kasa (rush). In English, a message of hope is inscribed in capital letters: CASTING THE LIGHT OF EVERLASTING PEACE. The lantern's installation in Kew's Japanese Landscape in London will be overseen by fourth-generation Japanese gardener and internationally acclaimed landscape designer, Sadafumi Uchiyama. Uchiyama serves as Chief Curator of Portland Japanese Garden and is Director of the International Japanese Garden Training Center.
Richard Deverell, Director of the Royal Botanic Gardens, Kew remarks;
"Receiving this important symbol of peace is a source of great pride for all of us at RBG Kew. We have always sought to leverage the power of nature and our stunning living collection to make a positive impact in our shared world. The lantern will be a beautiful and important addition to the Japanese Landscape here at Kew Gardens and we hope that visitors will come from far and wide to enjoy it and learn about its important meaning. Our connection to Portland and other botanic gardens the world over is a vital part of our work, sharing knowledge and resources to protect and restore nature for generations to come."
Steve Bloom, CEO of Japan Institute of Portland Japanese Garden says;
"Japan Institute was borne from what we have witnessed at Portland Japanese Garden for nearly 60 years – the intersection of culture, art, and nature can help provide a better understanding of ourselves and one another. The Royal Botanic Gardens, Kew is a global leader in the field of public gardens and is proof that these kinds of institutions can be a catalyst for vital community-building and social change. In recognition of these shared values, we present a gift of a Peace Lantern as a tangible symbol of cultural diplomacy, friendship, and peace."
This peace lantern dedication is part of Japan Institute's Peace Symposium, "Peacemaking at the Intersection of Culture, Art, and Nature," co-presented by Royal Botanic Gardens, Kew and held at Guildhall on December 6. The Symposium is open to the public and registration is required.
###
Japan Institute was established in 2022 as a sibling organization of Portland Japanese Garden. As an international hub for world leaders, artists, gardeners, and scholars, the Japan Institute organizes symposia, gatherings, and experiences through its three programming centers: the International Exchange Forum, the International Japanese Garden Training Center, and the Global Center for Culture and Art. Japan Institute and Portland Japanese Garden share in the mission of Inspiring Harmony & Peace, and the vision to be a leading global voice for cultural understanding, in pursuit of a more peaceful, sustainable world.
Japan Institute will hold six Peace Symposia on six continents over the course of three years. The first symposium was held in in Tokyo, Japan on Wednesday, September 21 – the International Day of Peace. These symposia explore the interplay between and convergence of landscapes, architecture, and arts in shaping new civic conversations and efforts for peacebuilding through cultural diplomacy.
Japan Institute's peace programming, including the Peace Symposia, is made possible through Robert and Deborah Zagunis.
Portland Japanese Garden is a nonprofit organization originally founded in 1963 as a place for cross-cultural understanding following World War II. A hallmark in the City of Portland, the Garden was founded on the ideals of peace and mutual understanding between peoples and cultures. Portland Japanese Garden is considered the most authentic Japanese garden outside of Japan and the foremost Japanese cultural organization in North America.
The Royal Botanic Gardens, Kew is a world-famous scientific organisation, internationally respected for its outstanding collections and scientific expertise in plant and fungal diversity, conservation, and sustainable development in the UK and around the globe. Kew's scientists and partners lead the way in the fight against biodiversity loss and finding nature-based solutions to the climate crisis, aided by five key scientific priorities outlined in Kew's Science Strategy 2021-2025. Kew Gardens is also a major international and top London visitor attraction. Kew's 132 hectares of historic, landscaped gardens, and Wakehurst, Kew's Wild Botanic Garden and 'living laboratory', attract over 2.5 million visits every year. Kew Gardens was made a UNESCO World Heritage Site in July 2003 and celebrated its 260th anniversary in 2019. Wakehurst is home to the Millennium Seed Bank, the largest wild plant seed bank in the world and a safeguard against the disastrous effects of climate change and biodiversity loss. RBG Kew received approximately one third of its funding from Government through the Department for the Environment, Food and Rural Affairs (Defra) and research councils. Further funding needs to support RBG Kew's vital scientific and educational work comes from donors, memberships and commercial activity including ticket sales.
For further information contact or visit www.kew.org.
---