Ms. Kanazawa was scheduled to come to Portland Japanese Garden on April 3 to demonstrate her remarkable calligraphy talents as part of "The Brush of Shoko Kanazawa," an exhibition of more than ten of her celebrated works of art. With circumstances surrounding the coronavirus, this exhibition will be postponed with the date still to be determined, as of April 3, 2020.
"Hello, everyone in Portland! NICE TO MEET YOU! As you may have heard, I cannot make it to Portland this month due to the outbreak of the Corona Virus, and I am very sad about that. Along with that, Tokyo Olympics 2020 has also been postponed. All I can do now is pray for you. And say I love you. I am still looking forward to coming to Portland to see all of you. We will hang in there together!"
Video: courtesy of the office of shoko kanazawa ©︎
ABOUT THE ARTIST
Renowned for her artistry with brush and ink, Shoko Kanazawa (b. 1985) is one of Japan's most acclaimed contemporary calligraphers. Born with Down syndrome, Kanazawa began studying calligraphy at the age of five. Her affinity for this artform that requires mastery of the most subtle variations in line, placement, and saturation flourished as she grew up. Her first exhibition of work, fifteen years after she began, was a breakout success that set her on the path toward international acclaim.
Today, she is a leading proponent of performance calligraphy, which is driving a resurgence in popularity of the artform with younger generations. Her use of oversized brushes and sumi ink require full-body expressions and movement to create dramatic, large-scale works. In honor of her artistic achievements, Kanazawa was named one of the official artists of the 2020 Tokyo Olympics.
To symbolize her hopes for the world in 2020, Kanazawa selected the kanji character 和 wa, meaning peace or harmony, as her personal statement. For a year which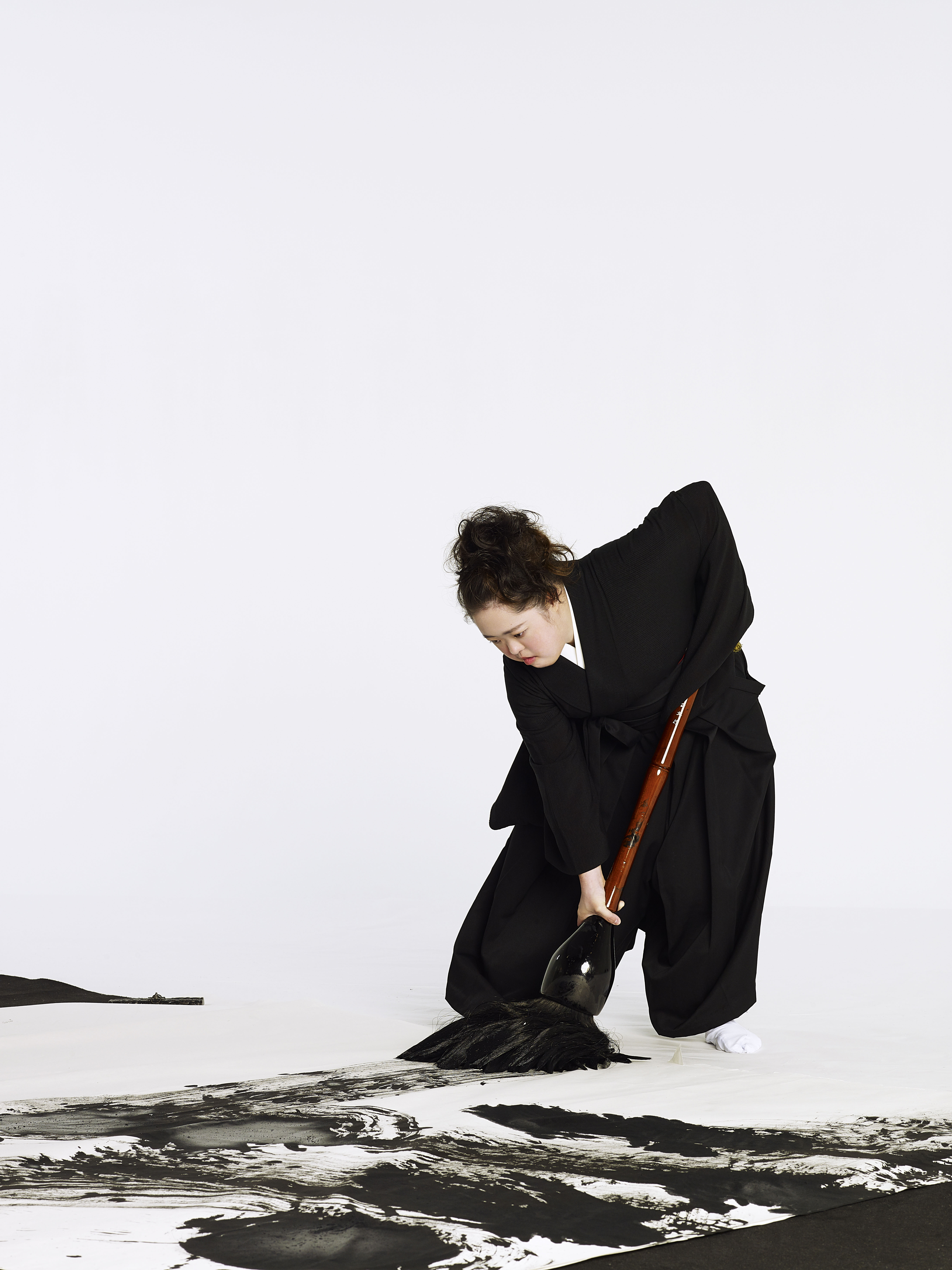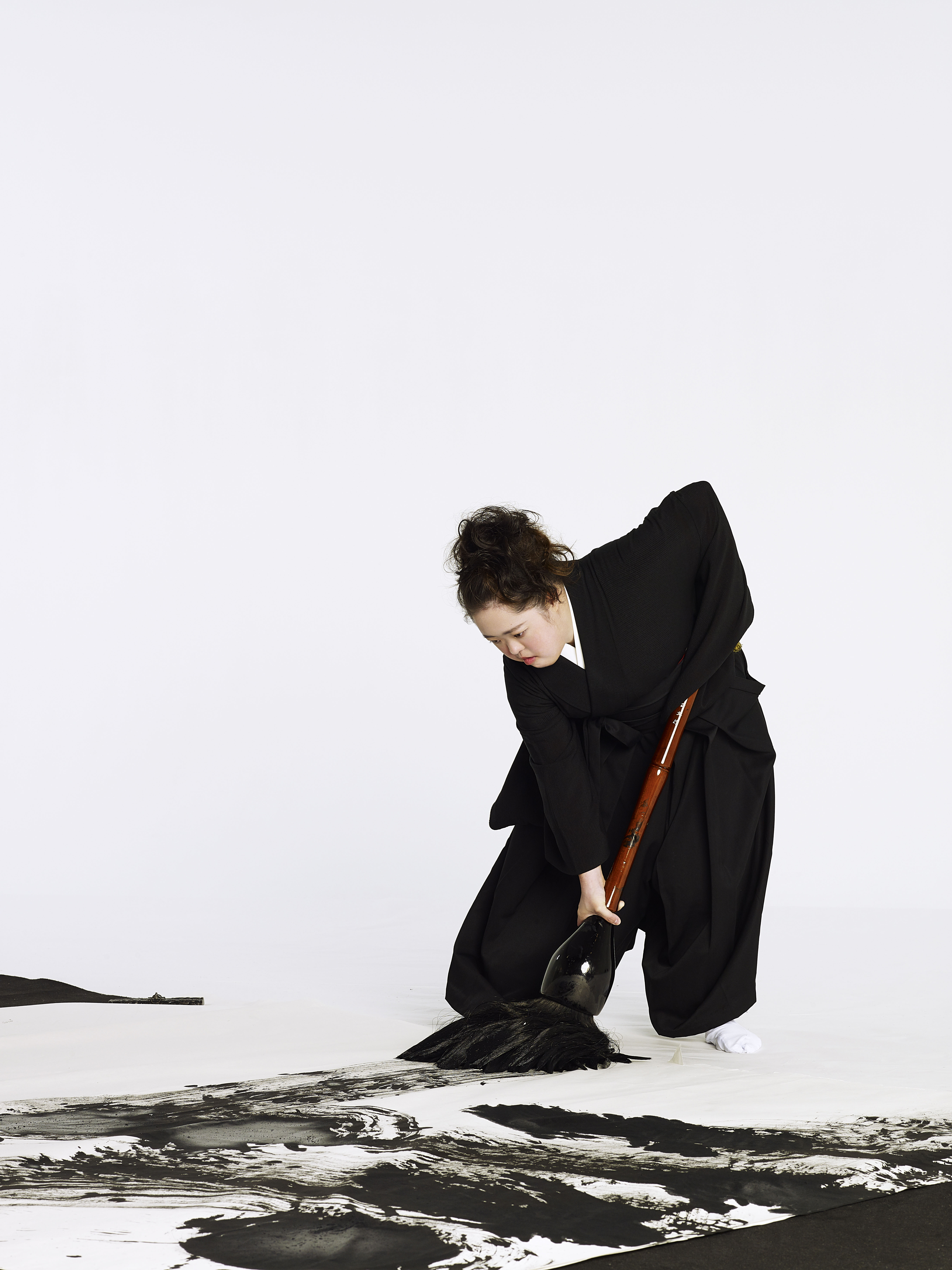 commemorates the 75th anniversary of the end of World War II, as well as the beginning of the new Japanese era of Reiwa (令和, or beautiful harmony) with the accession of a new Emperor, Kanazawa's message is particularly timely. Kanazawa's way of viewing the world through her challenges, rather than despite them, imbues every calligraphic line with the open-heartedness, empathy, and compassion she hopes to communicate and inspire in viewers around the world. Kanazawa spreads an inspirational message of peace and harmony that transcends borders and limitations of all sorts.
COMMUNICATING THROUGH CALLIGRAPHY
With a gigantic brush in hand, Kanazawa creates much of her art by using the strength of her whole body. Moving with precision, she expressly reveals each written stroke across large, blank sheets of paper.
Shoko held her first exhibition at the age of 20, with her mother, Yasuko, as her mentor and supporter in both calligraphy and life. "It is difficult for Shoko to clearly express herself with speech. Calligraphy has offered an outlet where she can fully connect with people while showcasing her artistic talent," Yasuko Kanazawa said of her daughter. "She's helping to change the way people view Down syndrome through her art."
Production and copyright: Nippon.comDirection: Sugiyama Sachiko / Filming: Yoshida Hideo / Sound editing: Nakata Ryōhei / Film editing: Mochizuki Hirofumi / Special thanks to Katō Chiaki  / (Director, Dewazakura Museum of Art)
MORE WORKS FROM THE EXHIBITION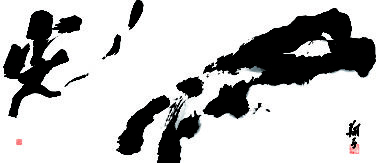 月光 (Moonlight)
風従虎雲従龍 (Cloud, Dragon; Wind, Tiger)
梵我一如 (Thou Art That)
言霊 (Soul of Language)
不死鳥 (Phoenix)
Raijin Fujin
And finally, inspiration for Kanazawa's Raijin Fujin piece
Raijin Fujin (God of Wind and God of Thunder) by Tawaraya Sotatsu (ca. 1570-1640)
Japan's only official replica on loan through the courtesy of Kyoto Cultural Association and Kenninji Temple, Kyoto
THANK YOU TO OUR SPONSORS OF THIS EXHIBITION
SANDRA CHANDLER & CHRIS SHAEFER