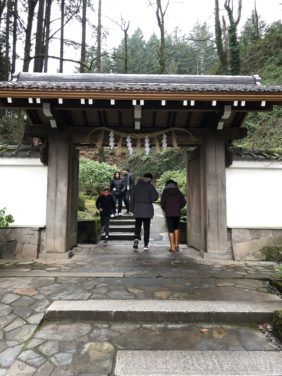 We would like to offer two shimenawa ropes exclusively for our members at the price of $50 each. Shimenawa is a braided straw rope used as a talisman against evil and that can be found in Shinto shrines to mark or enclose sacred areas. At Portland Japanese Garden, they have been displayed between Christmas and O-Shogatsu (Japanese New Year) to signify that the Garden has been purified and to welcome the deity, Toshigami-sama. In Japan, the Toshigami-sama is said to visit each family and promise abundance and health throughout the new year.
These shimenawa were handwoven by a craftsman in Tokyo whose family business has been running for over 110 years. They have been protecting the Garden at the Antique Gate and Nezu Gate for the past two years, are in wonderful condition and are ready for a new home. The ropes are each about 7 feet in length and comes with 4 shide (white zigzag strips of paper). One comes with 5 tassels.
To enter to win one shimanawa, please complete the form below by Wednesday, February 12. 
Each member household will have one week (between February 5 – February 12) to enter. After the lottery window has closed, members will be selected at random and we will call you at the phone number listed on your entry to complete your purchase. If you are unavailable when we call, a message will be left and you'll have 72 hours to respond and purchase your shimenawa.