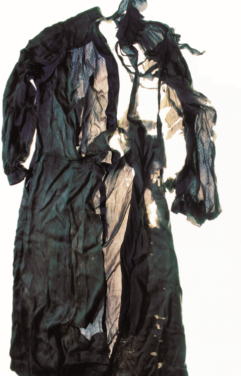 Portland Japanese Garden is commemorating 2020 as the Year of Peace in recognition of the 75th anniversary of the end of World War II. Throughout the year, the Garden will be taking the opportunity to stimulate conversation and facilitate thoughtful discussions on the importance of cultivating peace and cross-cultural understanding.
In conjunction with the opening of the Spirits Rising: ひろしま / hiroshima by Ishiuchi Miyako art exhibition, which will feature an acclaimed artist's monumental photography of cherished items and clothing left behind by victims of the atomic bomb detonated in Hiroshima, Portland Japanese Garden will present additional events and programming. These will include a pair of lectures featuring the artist and curator, in collaboration with the NW Film Center, and a film screening exploring the significance of the art displayed.
Below is a selection of upcoming events:
January 18, 2020
(3:00 pm – 5:30 pm)
Followed by Panel Discussion with Ishiuchi Miyako, Linda Hoaglund & Laura Mueller
Things Left Behind explores the transformative power of the first major international art exhibit devoted to the subject of the atomic bomb. This first exhibition, at the Museum of Anthropology in Vancouver, featured Ishiuchi Miyako's moving color photographs of objects in the possession and clothing once worn by those who perished. A panel presentation will follow the screening to explore the themes of artistic expression, creative collaboration, historical context, and the enduring legacy of trauma and the resilience of the human spirit.  The panel will include the film's director, Linda Hoaglund, the photographer, Ishiuchi Miyako, and curator of Spirits Rising, Laura J. Mueller, PhD.
This event is co-sponsored with the NW Film Center and will be held at:
Portland Art Museum, (Whitsell Auditorium)
1219 SW Park Avenue
Portland, Oregon 97205
February 15, 2020.
(4:30 pm – 6:00 pm)
The Photography of Ishiuchi Miyako: Tracing Women's Consciousness
The presentation will explore the life and work of Ishiuchi Miyako (b. 1947), including her place in art history, feminist themes apparent in her art, and an overview of the critical reception within the context of Japanese post-war photography. It will incorporate a brief introduction about the newly-opened Artizon Museum in Tokyo.
February 7, 2020.
(5:00 pm – 7:00 pm)
Curator of Art, Laura J. Mueller, PhD will present additional insights and background that will bring fuller understanding and enrich perspectives of the exhibition, Spirits Rising: ひろしま / hiroshima by Ishiuchi Miyako.
Enjoy light refreshments while learning directly from our curator as she presents a slide lecture focusing on the artist and a selection of works on display.
For Golden Crane, Patron, and Steward members only. Reservations are required.