World-renowned garden designer Hoichi Kurisu's name is associated with a long list of many transformative places: Anderson Japanese Gardens in Rockford, Illinois; Morikami Museum and Gardens in Delray Beach, Florida; and of course the Portland Japanese Garden itself.
Now that list will include the Oregon State Penitentiary in Salem. At first mention, it's an unconventional partnership, but Kurisu views a project at the state's only maximum security facility as a natural extension of his firm's vision. The ultimate goal is to create spaces that provide experiences restorative to physical, mental, and social wellbeing.
Kurisu has believed since childhood that landscape holds the ability to provide restoration and resilience. He was a six-year-old living in Hiroshima, Japan, when the atomic bomb was dropped in 1945. Luckily, a mountain separated his family's home from the bombing site – a landscape feature he attributed to the family's lives being saved. More than 70 years later, Kurisu designed the National Bonsai & Penjing Museum's renovated Japanese Pavilion, where one of the featured trees is a nearly 400-year-old Yamaki pine that also survived the blast.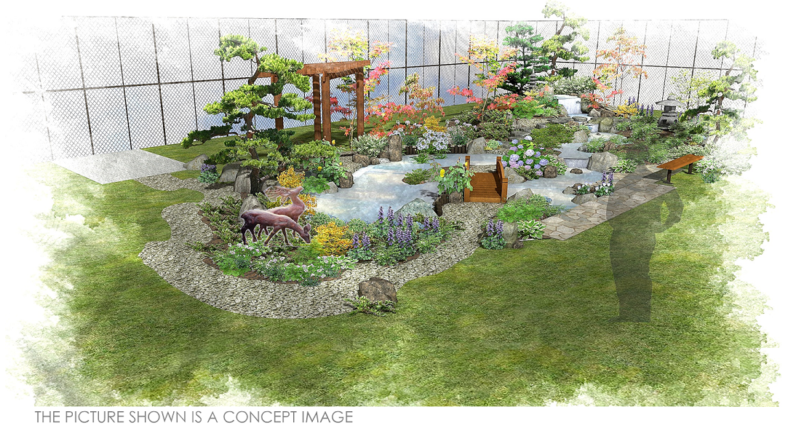 Since 1972, he has been the visionary leader of Kurisu International, a design-build firm based in Portland and Delray Beach, Florida with public, private, and corporate projects across the U.S. and beyond. Kurisu and the Garden have a long shared history. He served as Garden Director from 1968 to 1973.
"Hoichi has been a part of our Garden family for fifty years," said Garden CEO Steve Bloom. "He is not only an artist gifted at creating and stewarding transformative landscapes, but someone with a deep moral commitment to making places that give people a wholeness of mind and spirit."
Joined by his daughter and representatives of the prison, Kurisu brings that spirit with him back to the Garden on February 15 for a lecture and discussion about the prison project. Video footage will allow the audience to hear the prisoners' stories about how they envision the garden and how the project has impacted their lives.
Creating communal gardens in institutions is increasingly common. In homeless shelters, halfway houses, drug rehabilitation facilities, and other crisis settings, gardens provide an opportunity for meaningful activity and a new set of practical skills, as well as a reminder of a better place and time. Prison gardens have been connected to reduced recidivism rates – benefitting society overall as well as the prison community. Typical gardens focus on vegetable production, but Kurisu and his team are collaborating with inmates to create a Japanese-inspired healing garden out of a small space between the prison yard and a cellblock.
GARDEN DESIGN FEATURED ON OREGON PUBLIC BROADCASTING
Oregon Public Broadcasting recently featured Kurisu and his work with the Oregon State Penitentiary. Kurisu International has contributed designs, material, machinery, and labor to help realize the prison garden. The ultimate hope is that the garden will provide an experience that helps make rehabilitation and redemption possible.
To read and hear the story, please click here.