On November 3, 2022, it was announced that the Government of Japan has awarded the Order of the Rising Sun, Gold and Silver Rays to Diane Durston, Curator Emerita of Portland Japanese Garden. This award was established in 1875 by Emperor Meiji and is among the highest honors conferred to civilians. The Consular Office of Japan in Portland shared that Durston was chosen to be among the recipients of the Japanese government's 2022 Autumn Commendations "in recognition of her contributions to the introduction of Japanese culture in the United States, and to the promotion of mutual understanding between Japan and the United States."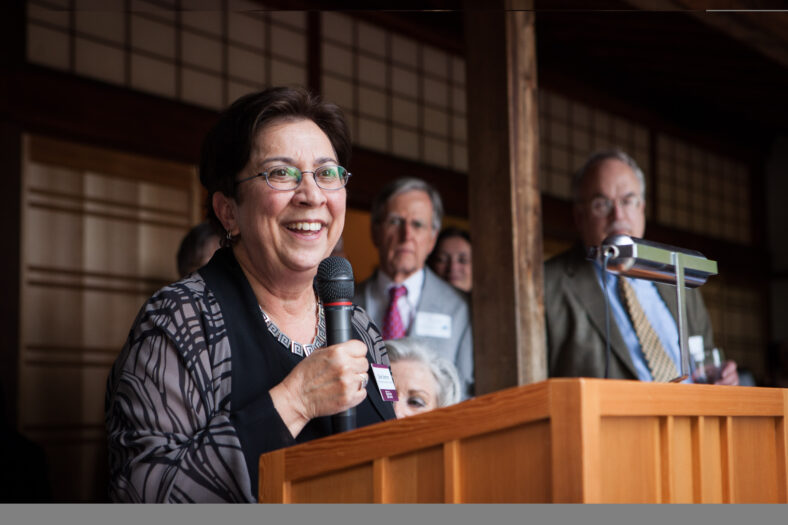 Before retirement and assuming the role of Curator Emerita in 2019, Durston served as the Arlene Schnitzer Curator of Culture, Art, and Education from 2007 to 2018. Notable among her innumerous contributions to Portland Japanese Garden was the introduction of the Art in the Garden (art exhibition) series, which successfully introduced the work of more than 75 artists representing Japan and its unique artistic traditions. Durston also oversaw Portland Japanese Garden's cultural programming, reorganizing the annual family festivals, planning annual lecture series, and reorganizing the Garden's library and arts collections.
Related: Portland Japanese Garden Chief Curator Given Foreign Minister's Commendation
"Rarely in any field of work has one person had such a profound transformational impact on an organization and in fact an entire global field," says Portland Japanese Garden CEO Steve Bloom about Durston. "For more than a decade, Diane created world class, innovative, thought provoking, and cutting-edge art and culture programming unparalleled anywhere. In addition to her incredible accomplishments in Portland, Diane is a celebrated author, helped guide the preservation of traditional neighborhoods like Gion and other historic districts of Kyoto, and served as the Special Programs Producer for the National Gallery of Art in Washington, D.C. She has truly, truly changed the landscape of Japanese culture throughout the world. We all owe Diane Durston a debt of gratitude."
To learn more about Diane Durston, click here.
Portland Japanese Garden Community Has Multiple Recipients of High Governmental Awards from Japan
Portland Japanese Garden, considered to be the most authentic Japanese garden outside of Japan and the foremost Japanese cultural organization in North America, is delighted to see Durston join the ranks of its leaders who have been formally honored by Japan. Durston's company includes:
Sadafumi Uchiyama, Chief Curator of Portland Japanese Garden & Director of the International Japanese Garden Training Center, awarded Japan's Foreign Minister's Commendation by the Japanese Ministry of Foreign Affairs in 2022
Steve Bloom, CEO of Portland Japanese Garden and the Japan Institute, awarded Japan's Foreign Minister's Commendation by the Japanese Ministry of Foreign Affairs in 2015
R.W. deWeese, former Board President, awarded Fourth Class of the Order of the Rising Sun in 1982
John M. Fulton, former Board Member, awarded Third Class of the Order of the Rising Sun in 1972
William "Robbie" Robinson, Portland Parks Bureau Gardener who assisted and led in the construction of Portland Japanese Garden, awarded the Order of the Sacred Treasure, Sixth Class in 1985
Mildred Schnitzer, former Board Member, awarded the Order of the Sacred Treasure with Gold and Silver Rays in 1987
Rudie Wilhelm Jr., former Board President, awarded the Fourth Class of the Order of the Rising Sun in 1980
---